And the bowling tournament Prague's barrel was born. Why did we, after football and hockey, decided to apply the Prague's Barrel concept on bowling as well? In 2013 we organized pretty successful European Company Sport Games in which participated more than 7000 amateur sportsmen from whole Europe. One of the 27 sports was bowling, and it was THAT sport with which we fell in love. Mainly because of its enthusiastic players and the great atmosphere they are creating in mutual cheering.
So one year after Games, Prague's bowling Barrel saw the light of day and was and still is dedicated to all amateur enthusiasts that want to pass 4 great days in Prague, play bowling and, especially, enjoy the friendly atmosphere of a unique tournament where beer flows like a river, and for free.
In the first bowling tournament participated 12 teams (from Czech republic, Denmark, Germany, Italy and Russia). After the pleasant Thursday's dinner in a typical Czech restaurant we played qualifications on Friday where everybody had 4 rounds to achieve the best possible result. The winner of qualification was BV Thales Hamburg.
The Saturday's programme started with the group for 7th-12th place – in which the the role of outsiders was rigorously confirmed by the team composed of organizers. 🙂
In the afternoon first six teams from Friday's qualifications fought for the golden place, that eventually earned the team from Russia – Piter. The final ceremony in the bowling facility with grill party only confirmed that idea making Prague's bowling barrel was a good one and after the safe homecoming was announced the second year of the tournament.
Photogallery from the bowling tournament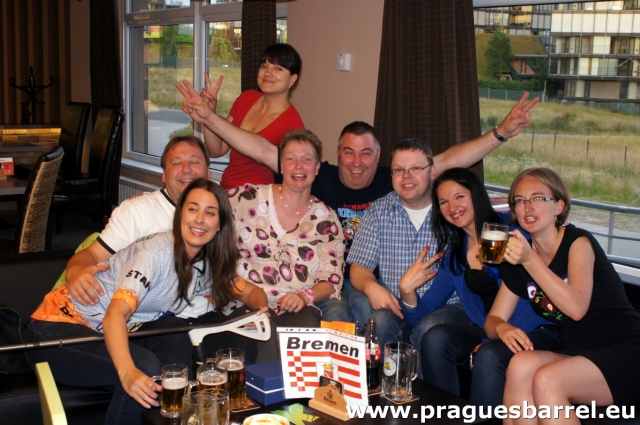 Video from the bowling tournament